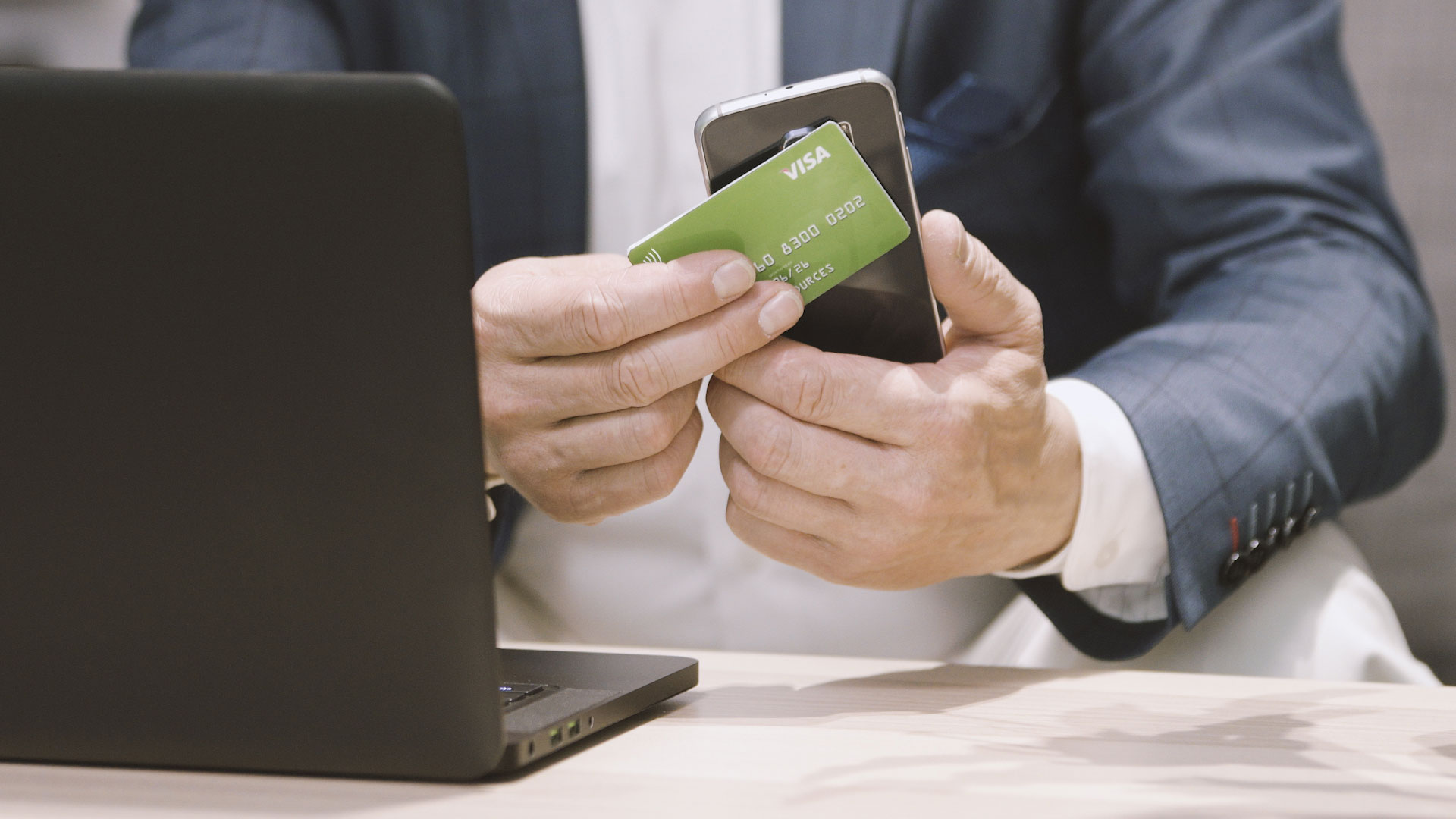 OUR SOLUTION
POS as a Service for Online Retailers
Receive payments from online shoppers like never before. Our cloud-based POS as a Service offers the same benefits and protections for online merchants and shoppers as making payments with a tap of a Contactless card. Its Card Present.
Contactless card payments for online shopping.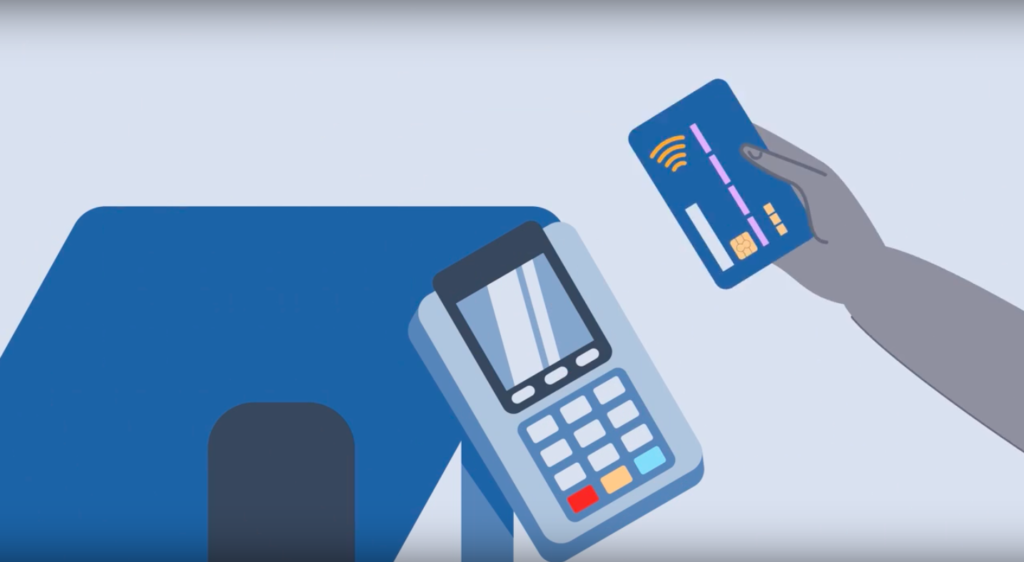 Maxa Contactless Explained
Maxa Contactless is a unique solution that delivers what everyone in online shopping is waiting for: the speed and convenience of contactless payments. Based on proven and certified technologies, it provides robust, SCA compliant security measures for fast, simple online shopping. And consumers love it. To find out more.
Maxa Contactless gives consumers the convenience of contactless payments when shopping online. Recent surveys show that more than nine in ten consumers have abandoned online transactions because of complex checkout. Consumers would even buy more online if the payment experience were safer and easier.
Maxa Contactless consumer experience is immediately familiar and trusted, even exciting, it is the world's most popular and fastest-growing payment method – contactless – also in online environment.
Maxa Contactless 'POS as a Service' brings great benefits for online retailers; one quick tap of a contactless card increases the conversion rate, as a Card Present you don't suffer Card-Not-Present fraud, and no 3DS and 'False Positives' failed transactions. Maxa Contactless encourages shoppers to shop more online.
More successful transactions, more revenue and less losses and costs. It is a clear winner!
Frictionless integration with Maxa API. Simple integration on your Payment Gateway and your customers are ready to accept Contactless card payments.
COPY-PASTE OF FIVE LINES OF HTML HAS NEVER BEEN MORE PROFITABLE!
Contactless
Like at a point of sale, but online.
Contactless is the world's fastest-growing payment method, with 90% of consumers in most European countries opting for contactless payment where it is available, and rapid growth in North America and Asia.
Maxa Contactless expands the contactless card payments everyone loves to online shopping. The same speed and ease of use. The same security, if not better.
Maxa Contactless is the most convenient way for a consumer to pay for online shopping. No accounts to create, no usernames or passwords, no card details to be keyed in or stored, no downloading of card credentials to the phone and no bank account details to be entered.
One familiar thing only. Tap your contactless card on your own phone and the payment is done. If required by your bank, type the card's PIN just like at a shop, but on your own phone.
Super-Scalable
Not just an App, it is auto-configuring POS terminal network
With Maxa Contactless solution any e-commerce merchant can use any consumer's phone as their own POS terminal to receive Contactless EMV payments.
As a merchant you don't need to do anything, your PSP will add the Maxa Contactless button on the payment page and you are ready to go. As a cloud-based solution there's no limit to how fast you can scale your business with Maxa Contactless.
Secure
End-to-end hardware secured and compliant with industry standards
Maxa Contactless system has been designed and built with security in the heart. It complies with all necessary industry security specifications and standards.
Maxa Contactless is using Public Key Infrastructure with RSA2048 encryption and digital certificates to guarantee the integrity of the network and mutual authentication of every transacting party. Every time.
Our Vision
We believe paying for online shopping should be as
easy, fast and secure as
contactless payments at a point of sale.

One tap.
The Frequent Travellers
Maria and Roberto love to travel around Europe. Back home, they're used to paying for everything online. But with so many countries, languages and websites, even paying for a train ticket can be a pain. Maxa Contactless takes the hassle and security risk out of the payment process. Thanks to Maxa Contactless, they can make a Card-Present payment with just one tap from the payment page of any website. It's easy, fast and secure.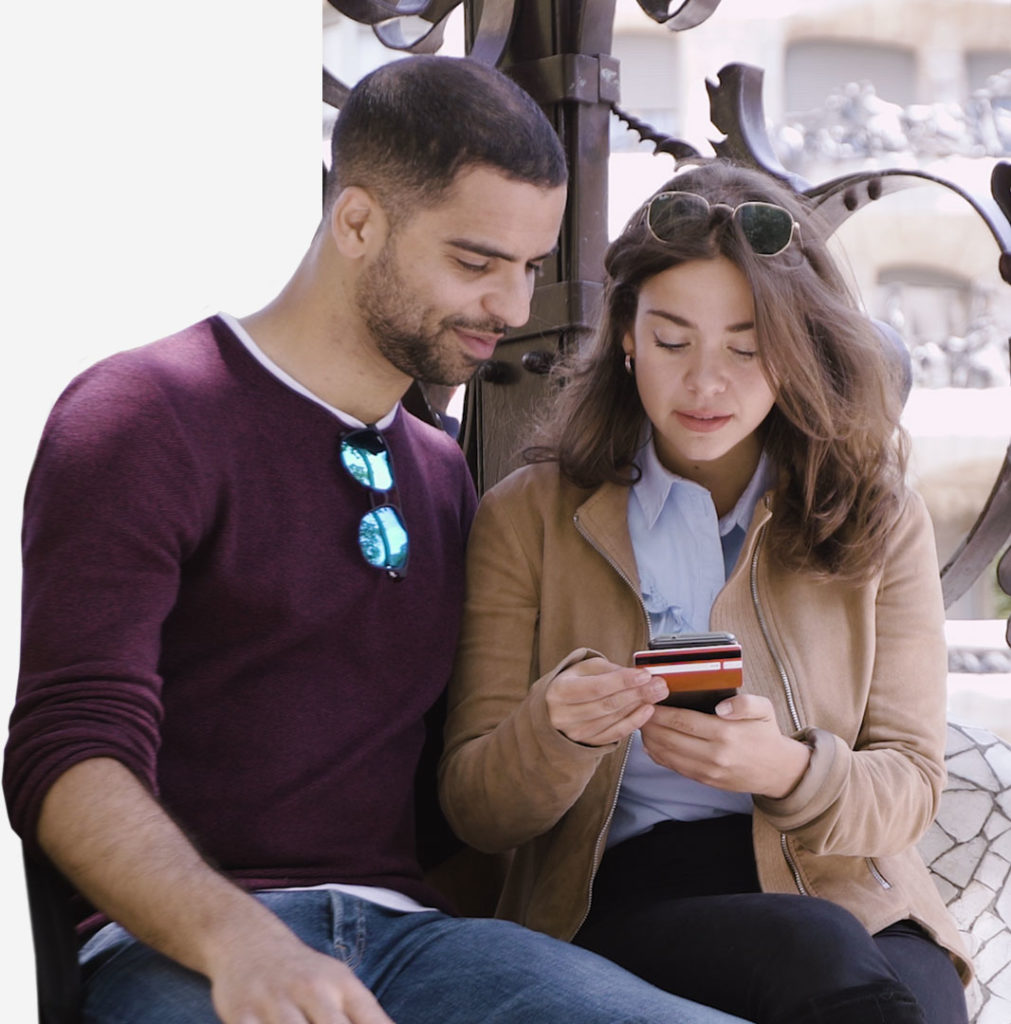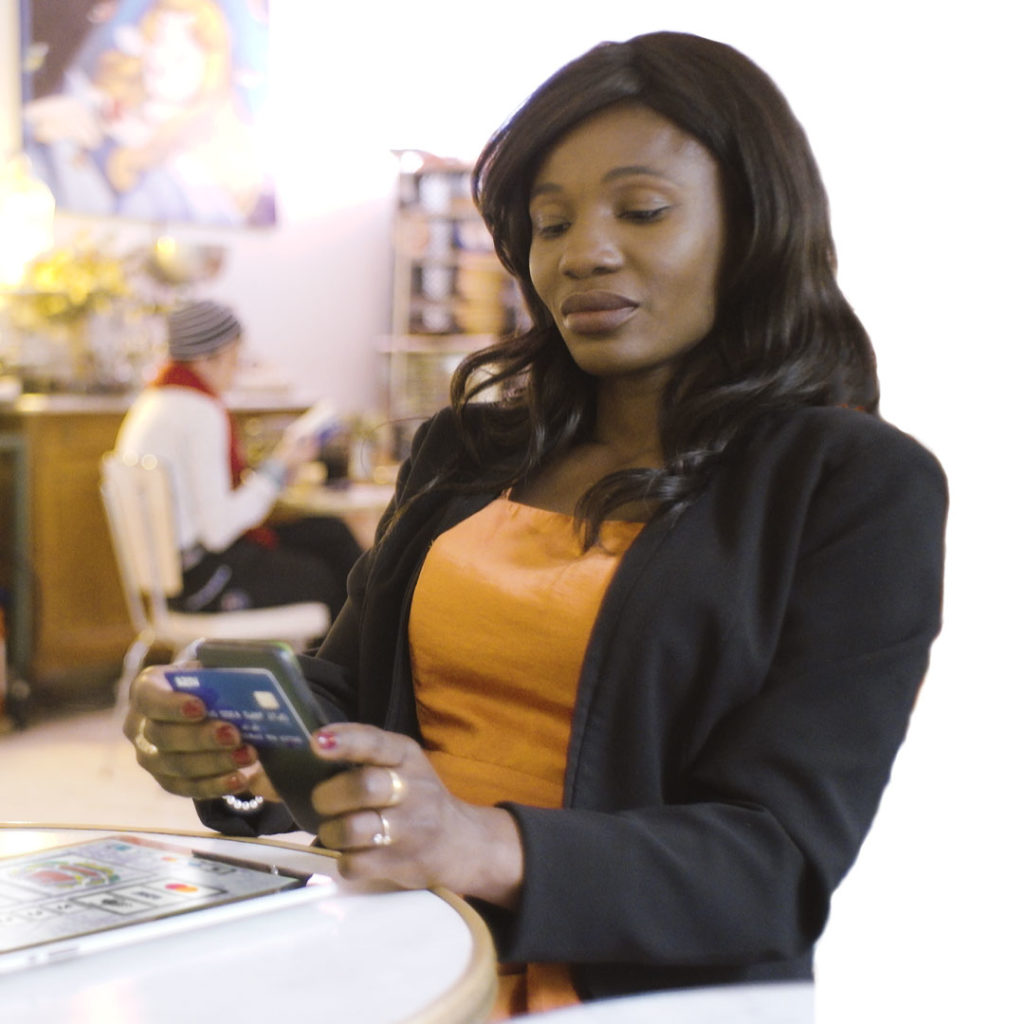 The Everyday Shopper
Audrey is from Paris. She uses Maxa Contactless to pay for everything she does online. With it, paying for theatre tickets is as easy as paying for a cup of coffee – one tap.
Her payments are fast, secure and simple.
The Online Browser
Thomas from Finland uses Maxa Contactless for all his internet shopping. Like more than a third of all European consumers, he doesn't like giving his card details away online to people he doesn't know or trust. With Maxa Contactless, he can pay for many goods and services online with just one tap – no need to enter any personal details. For larger purchases, he simply enters a PIN number in the Maxa Contactless App to pay for anything, no matter what the price. Even when shopping at home, it makes Thomas's online purchases easy, safe and fast – which encourages him to shop more online.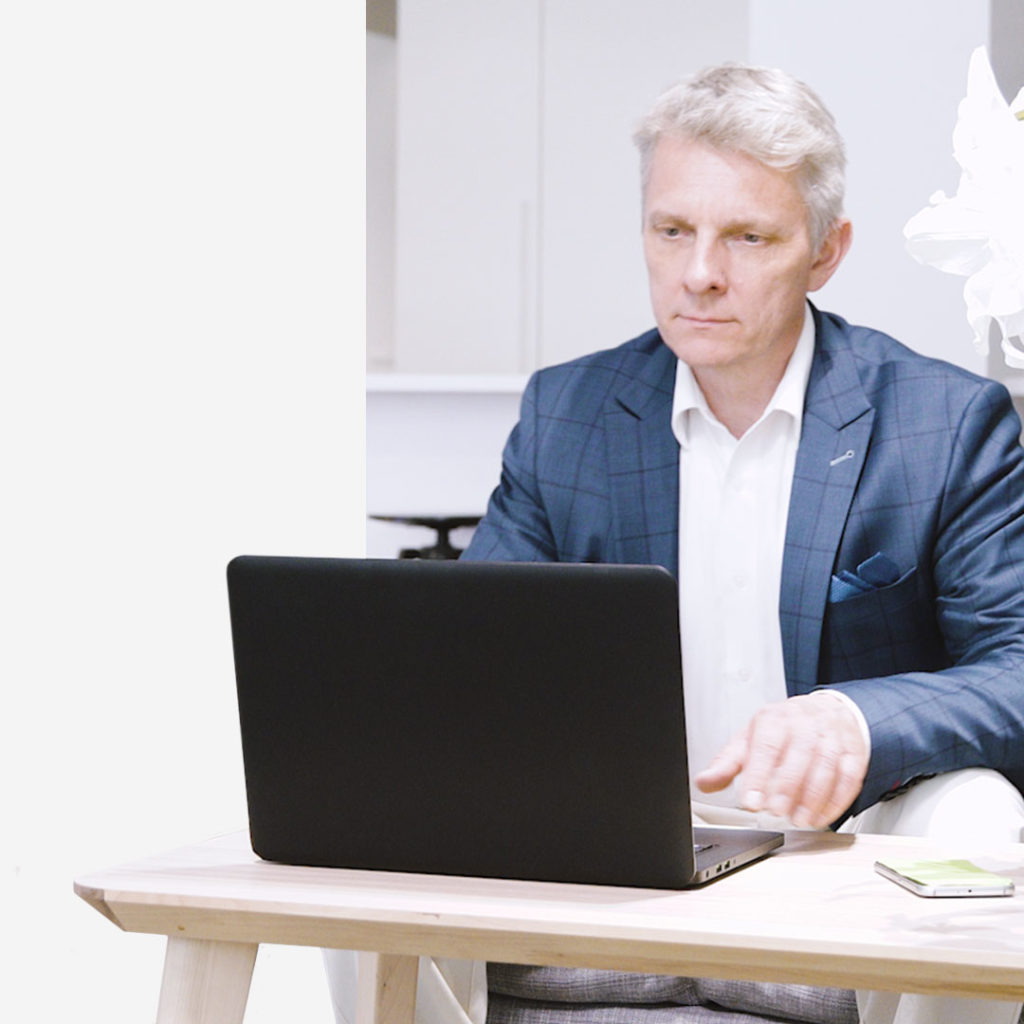 The technology behind
Maxa Contactless
Maxa's solution combines the security of smartcard hardware with the cost effectiveness and unlimited scalability of the cloud. Adding Maxa Contactless speed, scalability and security to the strengths of today's mobile devices will create a new world-wide solution for the payments industry, based on existing proven standards. Maxa is also a Visa Technology Partner, which enables us to benefit from Visa's global experience.
Please contact us to learn more about the benefits of Maxa Contactless and how to enable it for your customers?